Knee plasma injection is an appropriate treatment for knee roughness. It is a safe and simple procedure that depends on extracting platelet-rich blood plasma and then injecting it into the joint cavity to relieve symptoms.
Overview of platelet rich plasma injections
Platelet Rich Plasma (PRP) consists of two main components:
plasma: It is the liquid part of blood.
plates: It is a type of blood cell that plays an important role in the body's healing process and in coagulation process in particular.
Platelets also have the ability to clot the blood and contain growth factors that stimulate cell proliferation and tissue regeneration, in addition to a number of other benefits that scientists have not yet discovered.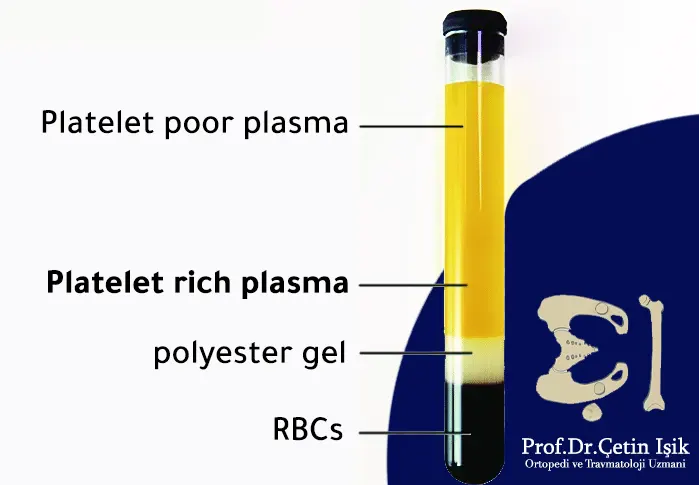 Platelet-rich plasma is obtained by taking a sample of the patient's serum and placing it inside a special device called the hemostatic, which is one of the modern medical equipment available in laboratories. In this device, the different blood components are separated by applying a rapid circulation in order to use them in various treatments.
Usually, after obtaining the platelet fluid, its concentration is raised, as this results in a special substance used in joint injections.
What are knee plasma injections?
It is a modern knee treatment technique based on the use of platelet rich plasma to treat many knee problems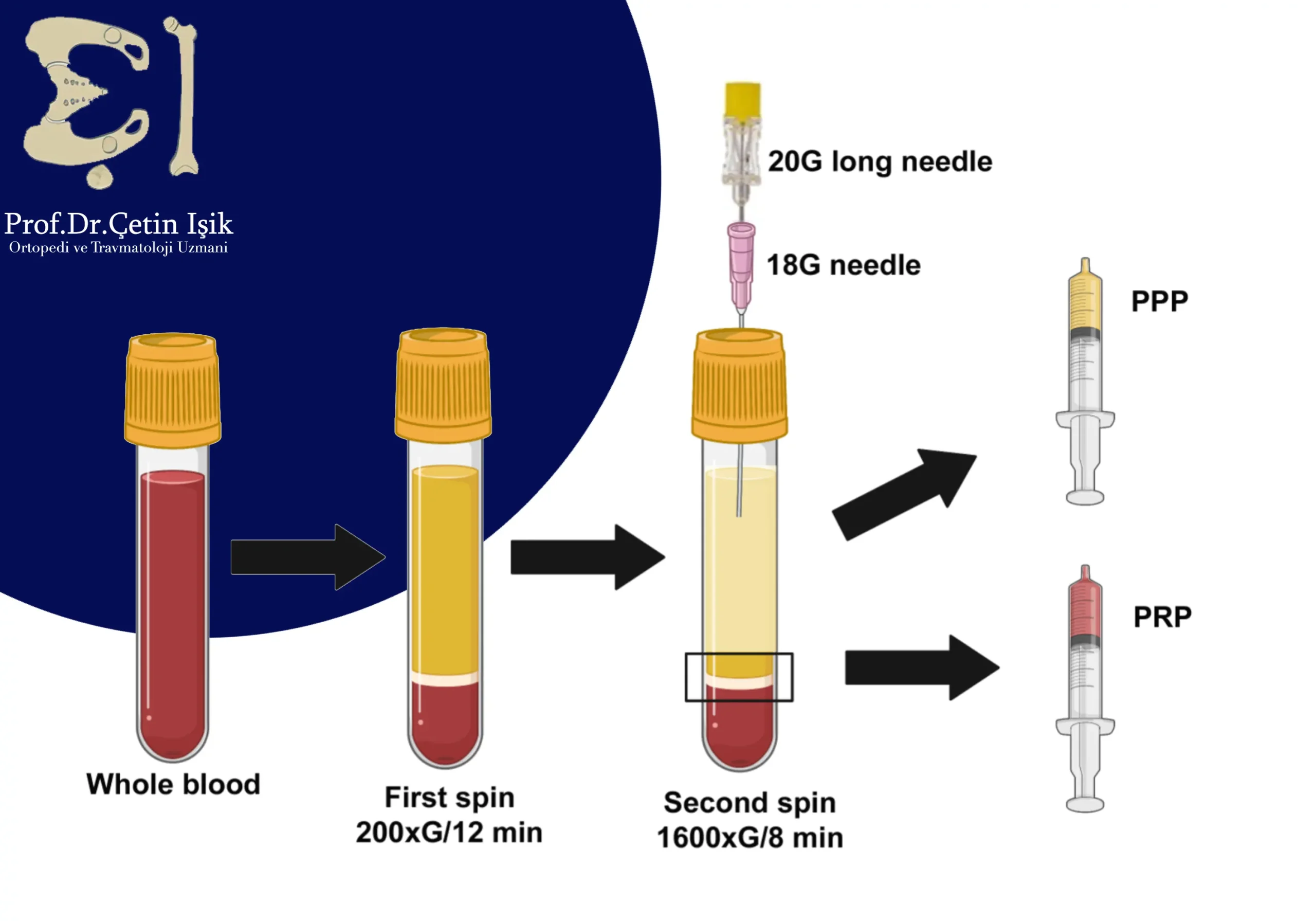 Knee plasma needles
Blood plasma injection needles are no different from any other traditional injections, as they are filled with a slightly yellowish liquid that is plasma, and they are preserved under very special conditions of heat and pressure and shouldn't be exposed to light.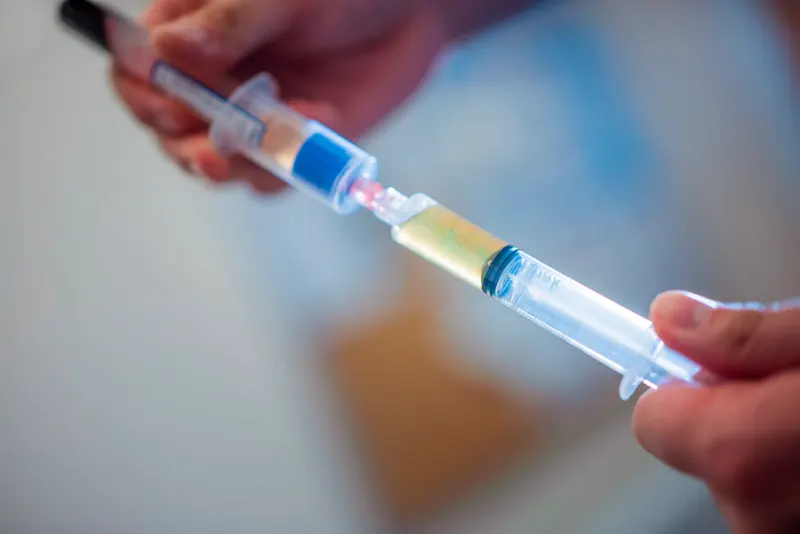 Knee plasma injection method
The procedure for injecting the knee with platelet rich plasma by echocardiography specialist doctor Where the exact location of the damaged tissue is determined, after inserting the needle, the specialist moves its head slightly until it reaches the place that needs treatment and injects the concentrated plasma slowly and with high accuracy.
After the end of the knee injection, the needle is withdrawn and a medical patch is applied.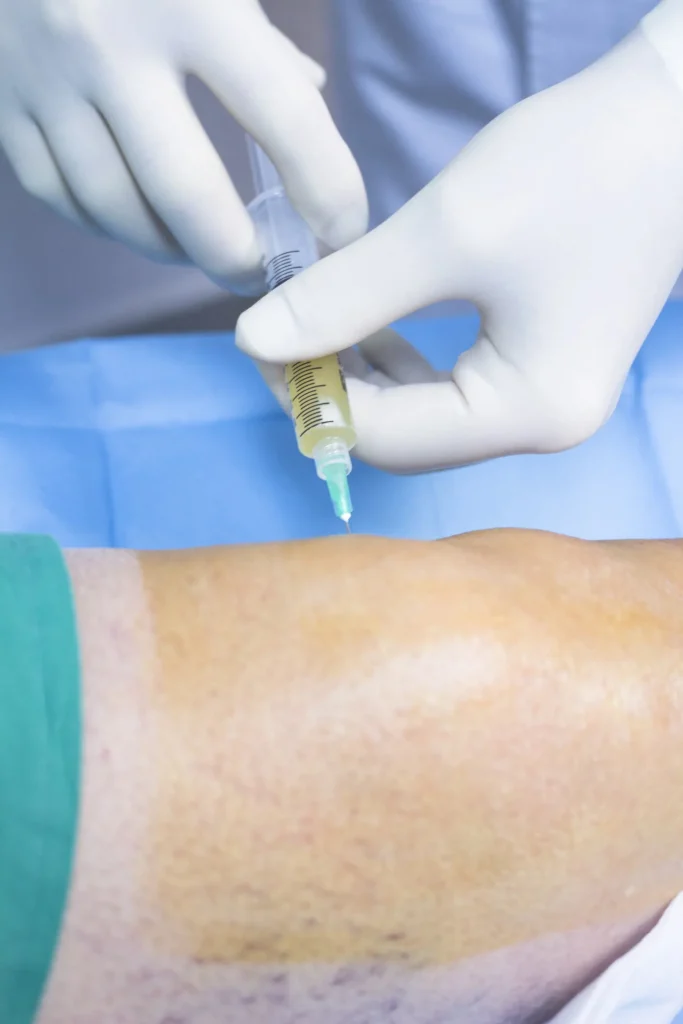 People who need plasma injection in the knee
In the past, cartilage surgery was the first treatment option, but today there are a good number of options for knee problems, and platelet-rich plasma injections can be a good treatment for some cases.
Damage to joints, ligaments and muscles
Severe damage may occur in one of the important joint structures, and this is associated with certain diseases such as jumper's knee and tennis elbow injury. These problems need months to heal, and here comes the role of plasma injection within the joint, as the latter treats the inflamed structures and speeds up the healing process.
Moreover, injecting the knee with plasma not only contributes to the process of repairing what is damaged, but also helps to effectively relieve joint pain.
Postoperative treatment
It is possible for the orthopedist to use injections within the knee after performing a difficult and complex surgery that requires recovery and rest for a long period of time.
Treatment of knee roughness with intra-articular injection
Many studies have shown that plasma injections to the knee effectively contribute to relieving joint stiffness pain by modifying the knee's chemical environment and inhibiting inflammation, and these results still need more documentation and research for sure.
Knee joint wear and tear
Sometimes the knee suffers from chronic damage that over time leads to roughness and difficulty in movement, and eventually the joint cartilage is eroded, as the problem lies in the inability of the cartilage tissue to regenerate.
It should be noted that plasma injection of the knee in this case is a palliative treatment that will not necessarily lead to the restoration of damaged cartilage, but it will certainly reduce symptoms reasonably.
Recommendations after knee plasma injection
It is very important to adhere to the doctor's instructions after the injection of platelet-rich plasma to the knee to ensure the best possible effectiveness of this treatment:
Apply ice directly to the knee for 20 minutes every few hours after the operation to reduce redness and warmth of the joint.
Take Tylenol to reduce pain.
Avoid NSAIDs, as they do not provide an important benefit, but may present treatment problems and reduce its effectiveness in some cases.
Avoid injuries and strenuous physical activities, because one of the most important factors that help recovery is getting enough rest for the period after the injection.
The orthopedic consultant may ask you to wear a special splint for several days in order to relieve pressure on the muscles and joints after the injection and allow the cartilage to grow and recover.
My experience with knee plasma injection
The first question that came to Brian's mind after hearing about platelet rich plasma injections in the knee was:
"Has anyone tried plasma injection to the knee before?"
This young man was suffering from roughness of the knee because he was a professional athlete, and he did not notice that his knee needed quick treatment after he suffered from severe pain in it several years ago.
Fortunately, platelet-rich plasma injections were an option for him, and he noticed a rapid improvement in his injured knee after treating the problem.
The advantages and disadvantages of plasma injection to the knee
Every medical intervention and every treatment that takes place in the hospital may be associated with the occurrence of side effects sometimes, although they are rare in injecting the knee with platelet-rich plasma, and a doctor should be consulted to weigh the risks and benefits before treatment.
Benefits of plasma needles for the knee
In the future, plasma needles may revolutionize the field of joint and bone treatment, as they have few side effects and are very effective in most treatments, according to Dr.a British study conducted in 2019.
Plasma injection of the knee improved the motor activity of the patients who were followed up in our clinic significantly, and they no longer complained of recurrent chronic pain.
Despite this, knee injections are still in a number of countries an experimental treatment, as it requires modern equipment and a trained staff, because the results are largely related to that.
Plasma injection damage to the knee
Since the treatment is extracted from the patients' normal blood, it is mostly safe, but serious side effects may occur, especially after injecting the knee with platelets, such as:
Infection at the injection site
Joint pain with plasma injection
Damage to the nerves or tendons within the injected knee
Also mentioned by a British study A 2017 study showed that injection therapists may complain of the following complications:
and stiffness And knee pain
Tachycardia
Dizziness, which causes vertigo and nausea
Sweating
Head pain
Doctors indicate that these side effects are non-specific and may also occur when taking other types of injections, such as cortisone injections and topical hyaluronic acid injections.
In addition to the complications of the procedure, the price of platelet-rich plasma injections in the knee may differ significantly from the prices of traditional treatments, as it is expensive in some specialized centers.
---
Sources:
Common questions
Injection of blood plasma into the knee may delay the need for knee joint replacement after injection in moderately severe cases of osteoarthritis.
Knee treatment by plasma injection is not expensive in most countries, as the price of one knee injection session ranges between 500 and 2000 USD.
Yes, it is called hyaluronic acid injections, and it is not effective in treating knee roughness, but only relieves pain and improves movement.
Yes, plasma injection into the scalp helps to strengthen the hair follicles, and it is sometimes an alternative to hair transplantation.